Singing Valentines
What a great way to say "I Love You!"
Call to schedule your Singing Valentine delivery throughout the year!
Call (501) 282-6081 in Hot Springs




or (501) 922-5805 in Hot Springs Village
Leave your sweetheart speechless
A special day of hearts, flowers and love songs doesn't have to happen only in the middle of February. Surprise your sweetheart or special friend with a gift that truly expresses your affections. A quartet from the Fun City Chorus can deliver a rose, a card and a love song in four-part harmony to that special someone at your home, a restaurant, workplace, hospital - just about anywhere!
Companies may also find this useful for employee recognition, special clients or customers.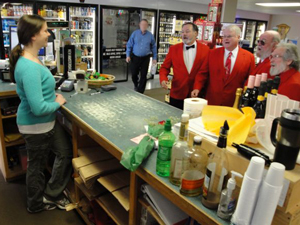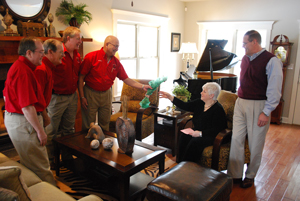 The Fun City Chorus sings across Hot Springs and Garland County to individuals and groups. What better way to say "I love you". These quartets have been delivering these Valentines for several years and are always been met with pleasure. It is truly an enjoyable experience for the recipient. Men and women, young and old, love being remembered this thoughtfully.
The Fun City Chorus of Hot Springs Arkansas is a group of approximately thirty men of all ages dedicated to singing A capella music in the Barbershop Harmony Style. All men who love to sing are invited to join us every Monday evening at the Westminster Presbyterian Church, 3819 Central avenue (next to Chili's Restaurant, at the bypass). For more information about The Fun City Chorus, please contact Doug Calloway at (870) 734–6185.